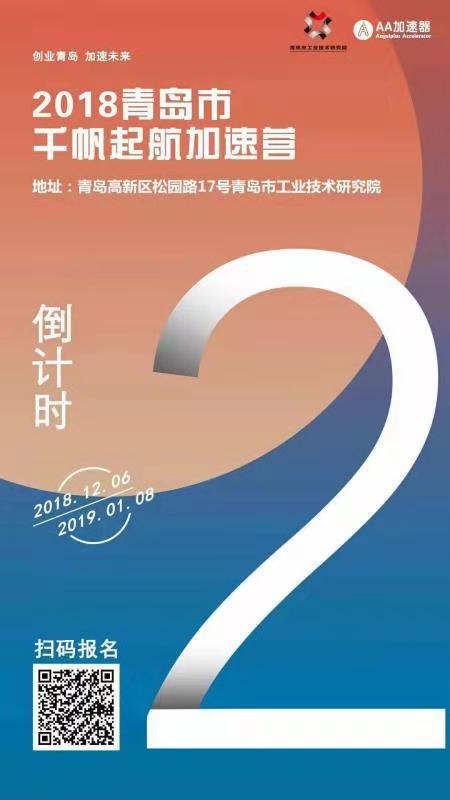 Recently, Qingdao ZolanBio Co., Ltd. successfully passed the expert review and was successfully selected as "2018 Qingdao Qianfan Sailing Accelerated Camp".
The theme of the event is "Qingdao entrepreneurship to accelerate the future". It is the spirit of the Municipal Science and Technology Bureau in accordance with the "Opinions on Implementing the "Hundred Thousand Millions" Project for the Implementation of Science and Technology Enterprises" (QingZhengFa [2018] No. 24) and the joint national high-tech of Qingdao. The Technology Industry Development Zone co-hosted the "Eight Steps" core course of the well-known enterprises to accelerate the growth service platform AA Entrepreneurship Acceleration Camp, and formed a special training course system based on the rich experience and technology system of Qingdao Technology and Technology Research Institute. The key counseling projects (enterprises) combing strategic positioning, improving business models, effectively improving financing efficiency, and improving operational management capabilities, aiming at cultivating a group of growth entrepreneurs with innovative spirit and modern enterprise management capabilities, and incubating a batch of Small and medium-sized enterprises with strong innovation capabilities and good development prospects.
The Accelerated Camp recruits outstanding entrepreneurial projects (enterprises) in Six industry sectors, including new energy, energy conservation and environmental protection. For the selected projects, the system will receive accelerated training. The training courses will be taught by professional instructors. The project also has the opportunity to meet face-to-face with domestic first-line investors and obtain professional guidance. For the project (enterprise) that actually landed in Qingdao, it will give industrial resources docking and technology. Policy support for innovation vouchers, investment funds, technology guarantees, and technology finance investment and loan linkages. The whole event will be supported by the People's Daily Overseas Edition, Xinhua Web, Beijing News, China Economic Times, China Economic Net, China Business News, China Science and Technology Network, China Daily Economics, Qingdao Radio and Television, Qingdao Daily.
Known from the organizers, the event attracted more than 200 outstanding enterprises (projects) from all over the country. After rigorous expert review and excellent selection, about 40 companies were selected for entry. Qingdao ZolanBio Co., Ltd has won high praise from the expert judges for its project "Research and Industrialization of Marine Microalgae Bio-carbon Sequestration and High Value-added Natural Products". It is believed that this training camp will bring more development opportunities to Qingdao Zolanbio and will help Qigndao ZolanBIo. Make greater achievements on the road of research and development of marine microalgae resources!
http://qdstc.qingdao.gov.cn/n32206675/n32206705/181115134810729364.html